Regular price
$17.00 USD
Sale price
$15.00 USD
Unit price
per
Sale
Sold out
Our 0.095" Weed Eater String is a game-changer when it comes to tackling unwanted weeds and overgrown grass. Designed with performance and durability in mind, this high-quality string will revolutionize your lawn care routine.
Will This Fit My Weed Eater?

We chose 0.095" as the size for our weed eater string because it's the perfect fit for most brands without compromising durability. It is designed to fit Ryobi, Ego, DeWalt, Black & Decker, Greenworks, Kobalt, Husqvarna, and other tool brands. Always check your tool specifications before purchasing.
What Are The Shipping Fees?

None! We cover the shipping fees to everywhere in the USA :) 
How Was This Developed?

We reviewed the color, shape, & size of all the other weed eater strings on the market. We determined that green had the highest visibility, a triangle shape had the cleanest cut, and a 0.095" size was the most durable without being too bulky to fit common brands. With this 0.095" Weed Eater String, you will cut with precision and get commercial grade edges. 
Features:

0.095" Size
100ft per spool
4.5oz
Green Color
Triangular Shape
Free Shipping
15% OFF Orders over $25
View full details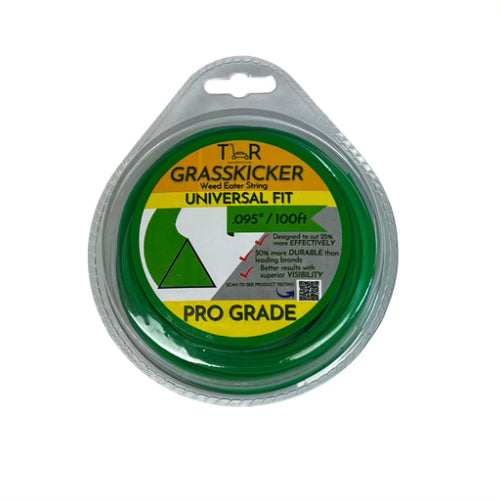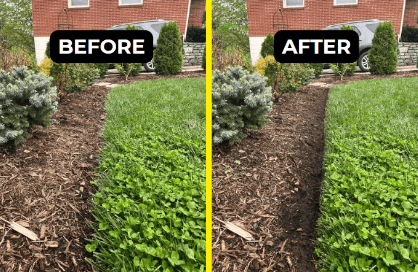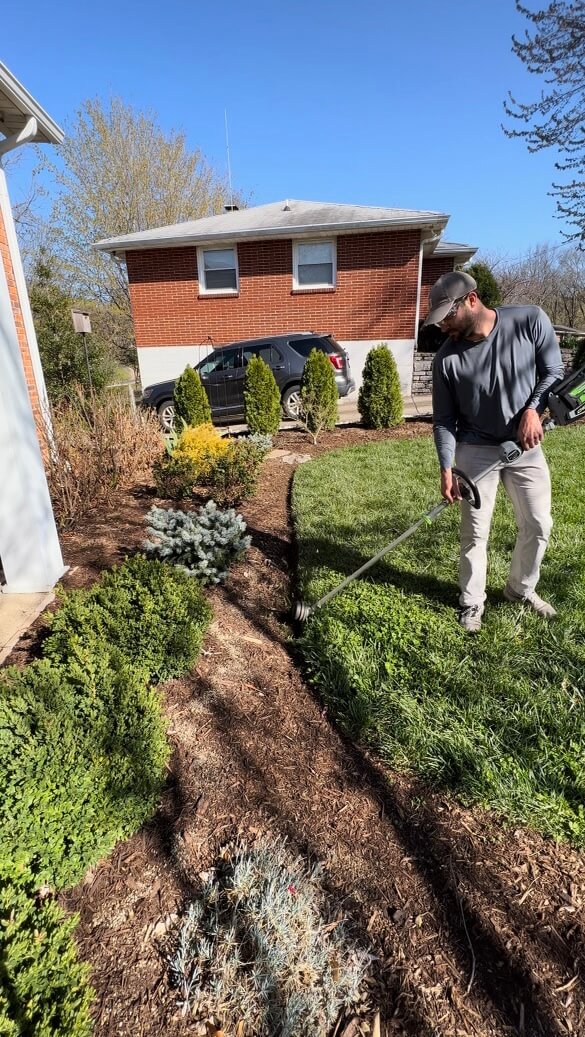 What Do Our Customers Say?
"I have tried many types of trimmer string over the past 15 years. Different brands, string designs, colors, etc. Just got my string order from TLR and I have found a keeper. Thanks guys!"
- Mark Kiser
"I bought this and wasn't expecting anything other than just replacing my line. First time I used it and I noticed a significant difference in how well it cut. Definitely will be buying more when mine runs out."
- Tucker Cummings
Perfect Edges for a Perfect Yard
Do you want to achieve a perfectly manicured lawn without the hassle and expense of hiring a professional lawn care service? Look no further! The GrassKicker Weed Eater String is the solution you've been looking for. With its cutting-edge (pun intended lol) design and advanced technology, the GrassKicker Weed Eater String makes edging you lawn a breeze.
Benefits of the GrassKicker Weed Eater String
Efficient and Effective: The GrassKicker Weed Eater String is designed to efficiently and effectively cut through even the toughest weeds and grass. Its high-quality materials ensure that it lasts for years, making it a cost-effective investment in your lawn care.
Fits Most Tools: Unlike most weed eater strings, the GrassKicker Weed Eater String is sized 0.095" and fits most tools. Simply load it to your weed eater and get started. Its user-friendly design makes it easy for anyone to achieve professional-level results.
Saves Time and Money: By investing in the GrassKicker Weed Eater String, you'll save both time and money. Our durable material stretches your dollar further so you use less string. No longer will you have to waste time edging your lawn or pay for costly professional lawn care services. The GrassKicker Weed Eater String cutting ability makes weed eating a breeze so you don't spend so much time in the lawn.
Improves Curb Appeal: A well-maintained lawn is essential for improving curb appeal and increasing the value of your property. The GrassKicker Weed Eater String makes it easy for you to achieve a perfectly manicured lawn, which will impress your neighbors and potential buyers.
Don't wait any longer to achieve the lawn of your dreams. Purchase the GrassKicker Weed Eater String today and get a professional-quality lawn at a fraction of the cost. With its efficient and effective design, ease of use, and cost-saving benefits, the GrassKicker Weed Eater String is the perfect addition to your lawn care arsenal.
Order now and take the first step towards a beautiful lawn that you can be proud of!